Italian 18kt Gold Over Sterling Silver Diamond-Cut Snake Bracelet. 8"
Details
$159.00
Compare:

$210.00

(Save 43%)
Promotions
Description
In line with the serpentine trend, this bracelet wraps around the wrist with a diamond-cut snake. The snake's head clasps onto the tail, which can be adjusted to meet your desired length. Made in Italy. 18kt yellow gold over sterling silver snake bracelet.
Additional Information
Product Details
| | |
| --- | --- |
| Width: | 3/16-3/8 inches |
| Metal: | 18kt Yellow Gold Over Sterling Silver |
| Metal Weight: | 11.0 grams |
| Finish: | Diamond-Cut and Polished |
| Clasp: | Concealed |
18KT: Karat (abbreviated kt or K) is a unit that indicates the purity of gold in the metal. 18kt is 75% gold. In Europe, 18K yellow gold is most favored and used in jewelry.

YELLOW GOLD: Gold is a precious metal with a natural yellow color. It is quite soft and often alloyed with other metals to increase its strength. The purity of the metal is indicated by a unit called a "karat," with 24kt having the highest percentage of natural gold.

STERLING SILVER: Also known as "Standard Silver," sterling silver is silver alloyed with other metals to increase the hardness and durability. Generally, sterling is 92.5% silver and 7.5% other metals. Some sterling silver jewelry is plated with 14kt-18kt gold and referred to as "vermeil," or "gold over sterling."
DIAMOND-CUT: A finish that incorporates highly polished cuts or facets which create a reflective sparkle similar to the appearance of diamonds.
POLISHED: A buffed-out finish used to produce a mirror-like shine.
CONCEALED: A clasp that is hidden within the design of the piece, so as to not interrupt the flow of the appearance.
All weights and measures are approximate.
Gift Box
Ross-Simons Presentation Box Your purchase includes an elegant Ross-Simons presentation box.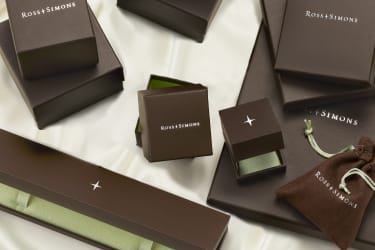 Our 100% Guarantee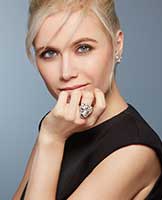 100% Moneyback Guarantee every item, every order, every day
ENJOY FREE Shippinglimited time only
24/7 Live Help toll free at 1-800-835-0919
100% Secure Checkout verified by DigiCert