14kt Yellow Gold Cat Cuff Ring
Details
Compare:

$240.00
Save:

$71.00

(30%)
Promotions
Description
Totally adorable and the purr-fect way to celebrate your love for fancy felines, this chic cuff ring shows off a minimalistic kitty silhouette on one side, with its cute tail wrapping the finger in glossy polished 14kt yellow gold. Adjustable size fits most fingers. 1/4" wide. 14kt yellow gold cat cuff ring.
Video
Additional Information
Product Details
| | |
| --- | --- |
| Width: | 1/4 inch |
| Metal: | 14kt Yellow Gold |
| Gold Weight: | 1.0 grams |
| Finish: | Polished |
14KT: Karat (abbreviated kt or K) is a unit that indicates the purity of gold in the metal. 14kt is 58.33% gold. In the United States, 14K yellow gold is most favored and used in jewelry.

YELLOW GOLD: Gold is a precious metal with a natural yellow color. It is quite soft and often alloyed with other metals to increase its strength. The purity of the metal is indicated by a unit called a "karat," with 24kt having the highest percentage of natural gold.
POLISHED: A buffed-out finish used to produce a mirror-like shine.
All weights and measures are approximate.
Our 100% Guarantee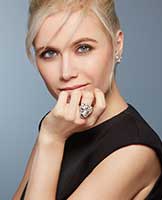 100% Moneyback Guarantee every item, every order, every day
ENJOY FREE Shippinglimited time only
24/7 Live Help toll free at 1-800-835-0919
100% Secure Checkout verified by DigiCert